News
Athiya Shetty Spills beans on the Controversial Club Video with KL Rahul, exhorts for responsible reporting
Athiya Shetty, the popular Bollywood actress, recently addressed the controversy surrounding a club video featuring her and Indian cricketer KL Rahul. The video had gone viral on social media, sparking rumors and speculations about their relationship. However, Athiya Shetty, in a firm response, urged the media and the public to verify their facts before jumping to conclusions.
In a statement release on her Instagram handle as a story, Athiya Shetty emphasized the importance of responsible reporting and urged everyone to exercise caution before making assumptions. She clarified that the video in question was taken at a public event where many other people were present, and the context had been misconstrued. Shetty highlighted the need to respect people's privacy and refrain from spreading baseless rumors.
Check her statement: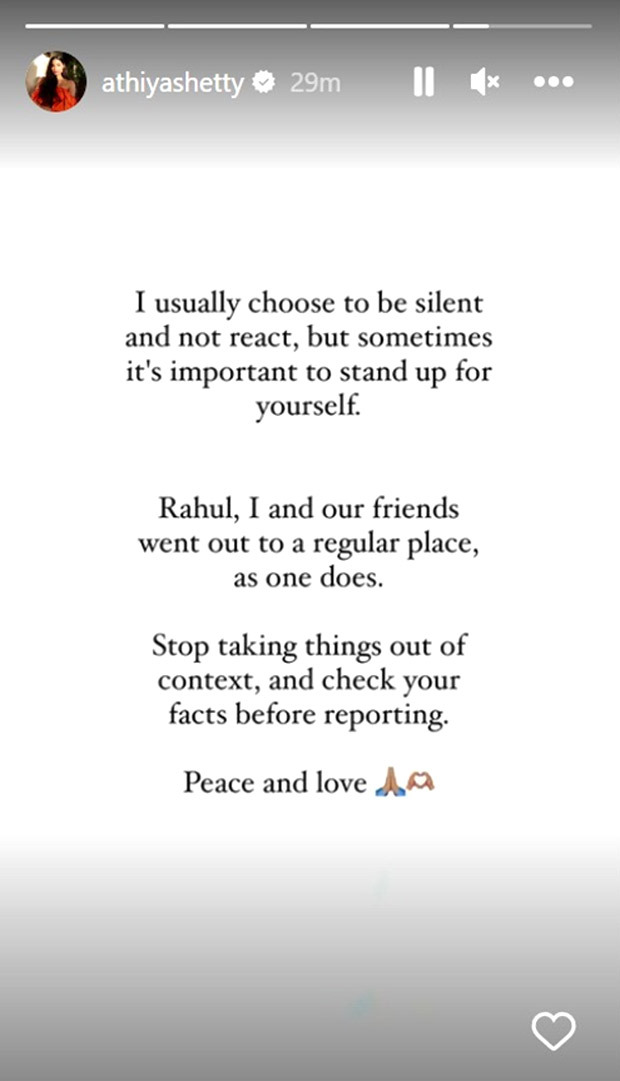 The controversy surrounding the alleged relationship between Athiya Shetty and KL Rahul had been making headlines for some time. The two celebrities have often been spotted together at various events and social gatherings, fueling rumors of a romantic involvement. However, both individuals have maintained a tight-lipped stance on their personal lives, choosing not to comment on the speculation.
Check the reactions that led her to issue this statement: 
#KLRahul Spotted In Strip Club In UK During His Recovery???? pic.twitter.com/l2MpFB5WKp

— ???????????????????????????? ???????????????????? ????????????✨ (@InChnadrakant) May 27, 2023
Athiya Shetty's response indicates her frustration with the incessant media scrutiny and the invasive nature of rumors. By urging the media and the public to verify their facts before reporting, she emphasizes the importance of responsible journalism and respecting the privacy of public figures.
Celebrities often find themselves at the center of unwarranted attention, with even minor actions being blown out of proportion. Athiya Shetty's call for fact-checking and responsible reporting serves as a reminder that public figures deserve their personal space and the benefit of accurate representation in the media.
As the story unfolds, it remains to be seen how the media and the public will respond to Athiya Shetty's statement. It is hoped that her plea for responsible reporting will lead to a more measured and respectful approach, allowing celebrities to maintain their privacy and focus on their professional endeavors without unnecessary intrusion into their personal lives.